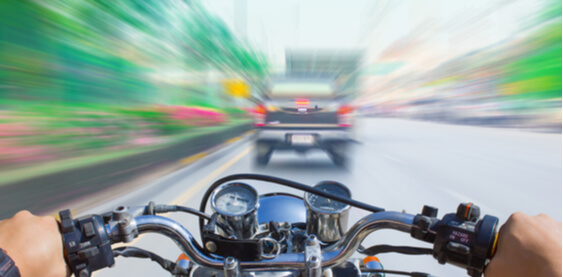 What do I Need to Know after a Motorcycle Accident?
Getting into a motorcycle accident can be an unsettling experience. A collision with another vehicle, bicycle, pedestrian, or object can cause the motorcycle to turn on its side and put you on the ground. After this happens, your heart starts racing and your mind goes into a million different directions as you try to figure out what this means and how to deal with it.
"How badly is my bike damaged?" "Do I have any injuries?" "What do I need to do now to handle the situation?"
These are just a few of the thoughts that will most likely go through your mind as you try to make sense of everything.
At this point, it is important to remain calm, stand up (if you can), and gather your thoughts. The actions you take immediately after you are involved in a motorcycle accident will greatly impact your health, as well as your ability to successfully recover compensation for losses such as damage to your motorcycle and physical injuries.
Whether you are reading this article on your phone at the scene of an accident that just occurred, or you are researching this information to be prepared for a worst-case scenario, it is important to take note of the essential steps you should take after a motorcycle accident:
Call for Medical Help
The first priority after a motorcycle accident is to ensure that everyone involved receives immediate medical attention for any injuries they may have suffered. So, your first call should be to 911 to bring an ambulance to the scene. Even if you do not feel hurt, it is still a good idea to get checked out. Sometimes, the adrenaline rush that you experienced after an accident masks the pain of an injury, and you may not feel the symptoms until later on. By getting looked at right away, you can get prompt treatment for any injuries you may have. While you are talking to 911, ask them to contact the police for you. The police should be called to the scene to help control traffic and to file an official accident report. This report will be very important if you need to take future legal action to recover compensation for your injuries.
Move your Bike out of Danger
Please have someone move your bike to the side of the road and out of the line of traffic as soon as it is safe to do so. Also, if anyone nearby has cones, flares, or flashers, please have someone put those up around the vehicles involved in the accident to alert oncoming traffic.
Document Everything
Exchange contact and insurance information with other drivers and take down the information about their vehicles. Also, give the police a statement for their report. When you are dealing with others at the scene, never apologize or imply in any way that you may be at fault for the accident. Be polite and helpful and just state the facts about what happened. Let the experts figure out who was at fault.
If you are able, speak with any individuals that may have witnessed what happened and obtain their contact information. Many times, witnesses will be willing to provide a statement about the accident. If this is possible, have them record a video statement with your smartphone, while the events are still fresh in their minds.
Involved in a Motorcycle Accident in Arkansas? Contact the Experienced Personal Injury Attorneys at the Paul Byrd Law Firm
As soon as is convenient after the accident, be sure to get in touch with a motorcycle accident attorney, so you understand your legal rights and options. Insurance companies will often try to get you to agree to a quick settlement offer that is for far less than the case is worth. Before accepting anything from the insurance company, be sure to speak with an attorney.
At the Paul Byrd Law Firm, we have many years of experience successfully representing clients for motorcycle accidents and all other types of personal injuries in Arkansas. We work closely with our clients, and we fight hard to obtain the compensation they need and deserve.
Call us today at 1-501-420-3050 or message us through our web contact form for a free, no-obligation consultation and case assessment. You may also stop by our Little Rock office in person at your convenience.